As companies seek more flexible and effective recruitment solutions, recruitment process outsourcing (RPO) is making significant strides worldwide. A recent report estimates that the global RPO market will reach USD 7.59 billion this year, and climb to USD 45.59 billion by 2033. While North America currently accounts for the majority of global RPO revenue, the Asia-Pacific RPO market is expanding rapidly, driven by increased demand for recruitment outsourcing.
The rise of recruitment process outsourcing
To understand the trajectory of growth, we should look at the benefits of RPO as a low-risk, high-service business model. Like many business functions, partnering with specialist organizations for recruitment activities allows companies to leverage outside expertise and offerings, while enjoying the focus and dedication of an internal team. Simply put, RPO offers the best of both worlds.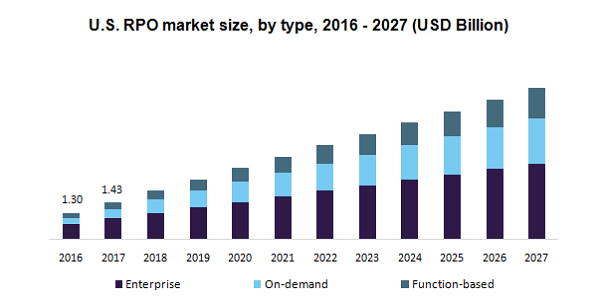 RPO as a proven business solution — 10 advantages
Could RPO be right for you? Studies have shown that recruitment process outsourcing offers a number of benefits including lower costs, a faster time to fill and a higher fill rate. In line with these benefits, Hudson RPO's suite of talent services has been beneficial to businesses looking to improve their talent acquisition, retention, and return on investment. With a high quality partner, RPO offers measurable business benefits, including the following advantages:
Improved quality of hire: With expertise in talent sourcing, recruitment process design, employment branding, reporting, DEI, and other specialized areas, RPO providers are in a better position to source, attract, source, and engage quality talent for every role.
Cost reduction: RPO increases cost savings by reducing the need for expensive overhead, training, and consulting. Relying on an external RPO partner, rather than outside staffing agencies, also helps to rein in high agency fees and recruiting costs.
Reduced time to hire: The longer a vacancy remains open, the greater the impact on your organization's performance. Reducing time to fill is a key deliverable under an RPO model. Driving efficiencies in the recruitment process and developing superior talent attraction strategies delivers significant reductions in the time roles remain vacant, sometimes by as much as 80%.
Scalability: Recruitment process outsourcing lets you scale your recruitment efforts up and down effortlessly to evolve with shifting markets and business priorities. As the talent market becomes more competitive, or business priorities accelerate, an RPO partner can ramp up recruitment efforts rapidly to attract top talent quickly. Conversely, in the event of a downswing, RPO allows you to optimize your recruitment resources more easily.
Flexibility: RPO offers flexible solutions that can be tailored to meet the changing needs of your organization. With a full range of recruitment services, from sourcing to screening, branding, process optimization, training, and more, RPO brings more to your team and candidates, elevating the entire recruitment experience.
Market intelligence: Together with an experienced RPO partner, organizations are better able to stay ahead of changing tides, to navigate skill shortages, and take advantage of new recruitment trends and data. Given broad and deep insights, you can stay ahead of your competition and plan for the future more effectively.
Technology and innovation: Many RPO providers use cutting-edge technology and out-of-the-box thinking to improve recruiting processes, automation, and speed. Leveraging sophisticated tools and unconventional ideas, RPO helps to accelerate internal innovation and efficiency.
Enhanced employer brand: Done well, an RPO solution positions your organization as a magnet for prospective talent. With consistent messaging and by strategically embedding your EVP into all aspects of the recruitment process, RPO partners help you to drive higher levels of interest, satisfaction, and loyalty. RPO recruiters also embed themselves into the fabric of your culture and hiring brand – strengthening your position in the market and amplifying your visibility as a preferred employer.
Diverse teams: RPO providers can help your organization to attract and engage diverse candidates, while also developing inclusive practices that minimize bias (i.e., blind resume screening, diverse interview panels, and inclusive job descriptions). As experts in diverse hiring iniatitives and practices, a high quality RPO partner will be ready to work towards your organization's DEI objectives.
Better ROI: RPO allows you to bring in specialized talent expertise, extensive experience, and proven processes and technology to improve your results. Less expensive than high agency fees or building out a robust internal team, RPO offers an edge in supercharging your hiring and ROI.
Ready to Evolve Your Hiring?