As America (and the rest of the world) grapples with the centuries-old issues of race and equality, punctuated most recently by the killings of George Floyd, Breonna Taylor, Rayshard Brooks and too many others, these issues are now being addressed by corporate America in a way that they never have before. In recent months, CEOs of corporations large and small have made public statements condemning racism and police brutality and in support of Black Americans' fight for racial justice and equality. And while the C-suite has addressed these issues more candidly than ever before, many in corporate America are struggling with what to do, how to start the conversation, and more importantly how to translate words into action.
In the U.S., we have clearly made progress in the decades following the civil rights movement; however, recent events demonstrate that there's more work to be done.  Despite our progress, data from across the U.S. consistently shows that African-Americans are more likely than whites to be detained and/or arrested by law enforcement; and all things being equal (i.e. offense type, criminal history), African-American offenders are often sentenced more harshly than white offenders.  And in corporate America, you don't have to look far to make the case that progress is needed: while African-Americans make up 13.4% of the US population, only 1% are currently Fortune 500 CEOs.  Dating back to 1999, there have only been 18 black CEOs on the Fortune 500 list.
Diversity in the Workforce
Like many companies, at Hudson RPO we employ diverse teams around the world.  Our teams are made up of individuals from all walks of life.  We are black, we are white, we are Latinx, we are veterans, we are multi-generational, we are people with disabilities, and we are members of the LGBT community, along with many other dimensions of diversity.  We embrace diversity in all its forms thanks to our diverse make-up and culture of inclusion.  Our corporate culture led organically to open and candid conversations about personal experiences, George Floyd, Black Lives Matter, law enforcement, diversity, equality, inclusion, and related topics.  In years past, we might have shied away from these conversations in order to avoid uncomfortable and nuanced topics related to race.
But in the weeks following the killing of George Floyd, I heard from former colleagues, prospective clients, and even friends from college, all asking the same questions:  What can we do?  And where do we start?  It turns out that several peers, all leaders at Hudson RPO, were experiencing the same.  Our networks were reaching out to us to vent, brainstorm, and strategize around turning constructive dialogue into action.  As a leadership team, we had several conversations about diversity, equality, and inclusion with many of us sharing our own personal stories about how race has impacted our lives both personally and professionally.  Those conversations all led us to what ultimately felt like an obvious place: the "Just Start" web series.  Through a series of web-based roundtable discussions, our team would walk and talk viewers through best practices for establishing DEI.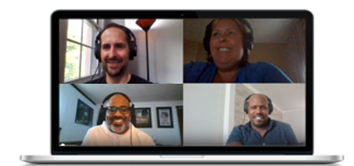 Our meticulously outlined episode plan led us to record two-thirds of our planned series before we realized that our content felt too canned and ultimately wouldn't deliver what we wanted it to: change.  We could have easily delivered a "how-to" guide for establishing a DEI function, processes, strategies, etc., but that's not what our networks were reaching out to us for.  They were asking for a "how-to" guide for affecting change by touching hearts and minds.  So, we scrapped our scripted episode plan and simply set out to create a series that inspired our networks to discuss DEI with courage and candor by openly discussing the impact of race on each of us every day, both inside and outside of the office.
"Just Start", Hudson RPO's unscripted web series featuring members of our Americas leadership team discussing our DEI journey, experiences with race, gender and cultural differences, and DEI best practices can be found at our "Just Start" playlist.
For more information about our series, email us at [email protected].