In any given coffee shop on any given day, it is easy to spot the virtual workforce with their laptops open and headphones on to help minimize distractions. Telecommuters. Remote or virtual workers. Work-from-home employees. Digital nomads.
All of these terms refer to talent who accomplish some — or all — of their work at a location that is not a company office, such as a home or at a café with a WiFi connection.
Virtual work isn't new, but the number of people working out of the office has increased dramatically in recent years.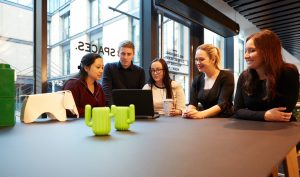 The number of US employees working remotely increased 115 percent between 2005 and 2015, going from 1.8 million in 2005 to 3.9 million in 2015. That's according to research by Global Workplace Analytics and FlexJobs.1
According to the Bureau of Labor Statistics, 22 percent of the US workforce did part or all of their work at home in 2016, up from 19 percent in 2003. Among workers with advanced degrees aged 25 and older, full or partial remote work reached 43 percent in 2016.2
Exploring the pros and cons of remote working
Now that it's no longer an option for a lucky few, the pros and cons of full- or part-time remote work are under scrutiny.
On one side are those who contend it has a positive impact on productivity, employee engagement, and the bottom line.
Employees who spent some time working virtually were slightly more engaged than those who worked remote or in-office 100 percent of the time, according to a 2017 Gallup survey. Partial remote workers were also more likely to feel their job offered learning and growth opportunities.
On the flip side, however, are those who contend remote work negatively impacts collaboration.
In the past few years, several high-profile companies began scaling back their virtual workforce. In 2017, IBM rescinded the remote option for thousands of employees, and before that, Bank of America and Yahoo called their workers back to the office.
But the virtual work option isn't going away anytime soon, with experts predicting an expansion of the remote workforce over the next few years. Companies should consider carefully whether and how they'll leverage virtual employees, and then develop virtual work policies unique to their organization.
Some businesses struggling to draw highly skilled talent may attract better candidates with a remote option. Others may improve employee satisfaction with a partial work-from-home option.
Whether you're considering adding telecommuters to your staff for the first time, or refining your existing remote work offerings, these are some of the top virtual workforce trends to understand.
Trend 1: Virtual collaboration driven by tech hubs
Increased remote work coincides with the rise of smartphones and other mobile tech that allow people to take the office with them wherever they go. Additionally, collaboration and messaging tools — think Trello and Slack — have become so sophisticated, virtual work can happen in real time.
In virtual hubs and incubators, employees work from where they are with teams across the globe. These hubs, which can exist exclusively online or within shared work spaces, are proliferating around the country.
No longer must tech companies establish a footprint in Silicon Valley to draw top talent. The talent market is tight across industries, but it's fiercely competitive within the tech sector. For many startups, a brick-and-mortar office in a city with a deep tech talent pool isn't in the budget.
With a virtual hub, they can access exceptional candidates anywhere in the world, and a team of developers can work seamlessly within web-based hosting services, such as GitHub and Bitbucket. Similarly, tech giants can cast a larger net for developers and software engineers who aren't willing to relocate. Employers large and small also save money on salaries when their remote workers live outside of expensive tech hubs, such as San Jose and New York City.
Trend 2: Remote work spreading across industries
According to a 2017 study by IT solutions company Softchoice, 74 percent of 1,000 office workers surveyed said they would leave their job for another that offered the option of more remote work.
According to Gallup's State of the American Workplace — in-depth polling into what matters to employees — "flexible scheduling and work-from-home opportunities play a major role in an employee's decision to take or leave a job." To draw top candidates in a tight talent market, employers are taking note.
Tech companies embrace the remote work model, and other industries are finding that telecommuting and flexible work options improve candidate attraction and employee engagement. According to Gallup's research, the finance, insurance, and real estate industries significantly increased their virtual workforce from 39 percent to 47 percent between 2012 and 2016. During the same time period, the computer, IT, manufacturing, science, engineering, and retail sectors also increased their remote workforce.
Trend 3: A greater proliferation of flexible remote policies
The most effective telecommuting policies aren't all or nothing.
Gallup's research found that fully remote and fully in-office workers report the same low level of engagement, with only 30 percent of these employees actively engaged at work. A mix of time spent collaborating with colleagues in the office and working remotely seems to make the most positive impact on hiring. All employees with some remote work flexibility were more engaged than those without the option. But those who worked remotely three to four days a week had the highest engagement levels — from 60 to 80 percent engagement.
Ideally, a company's remote work policy includes wiggle room to allow for individual preferences. Some employees are likely to feel isolated or out of the loop when they work from home, while others will be adept at navigating collaboration tools so they feel connected and in the mix.
Working remotely is fast shifting from a nice-to-have perk to a non-negotiable option for employees deciding where they'd like to work next. Even if your company isn't prepared to offer a remote option, it's important to consider how it might fit with your organization in the near future.
Sources
1 Vasel, Kathryn. "Working From Home is Really Having a Moment." CNN. Web. 21 June 2017.
2 "On Days They Worked, 22 Percent of Employed Did Some or All of Their Work at Home in 2016." TED: The Economics Daily. Bureau of Labor Statistics. United States Department of Labor.